THE CAGES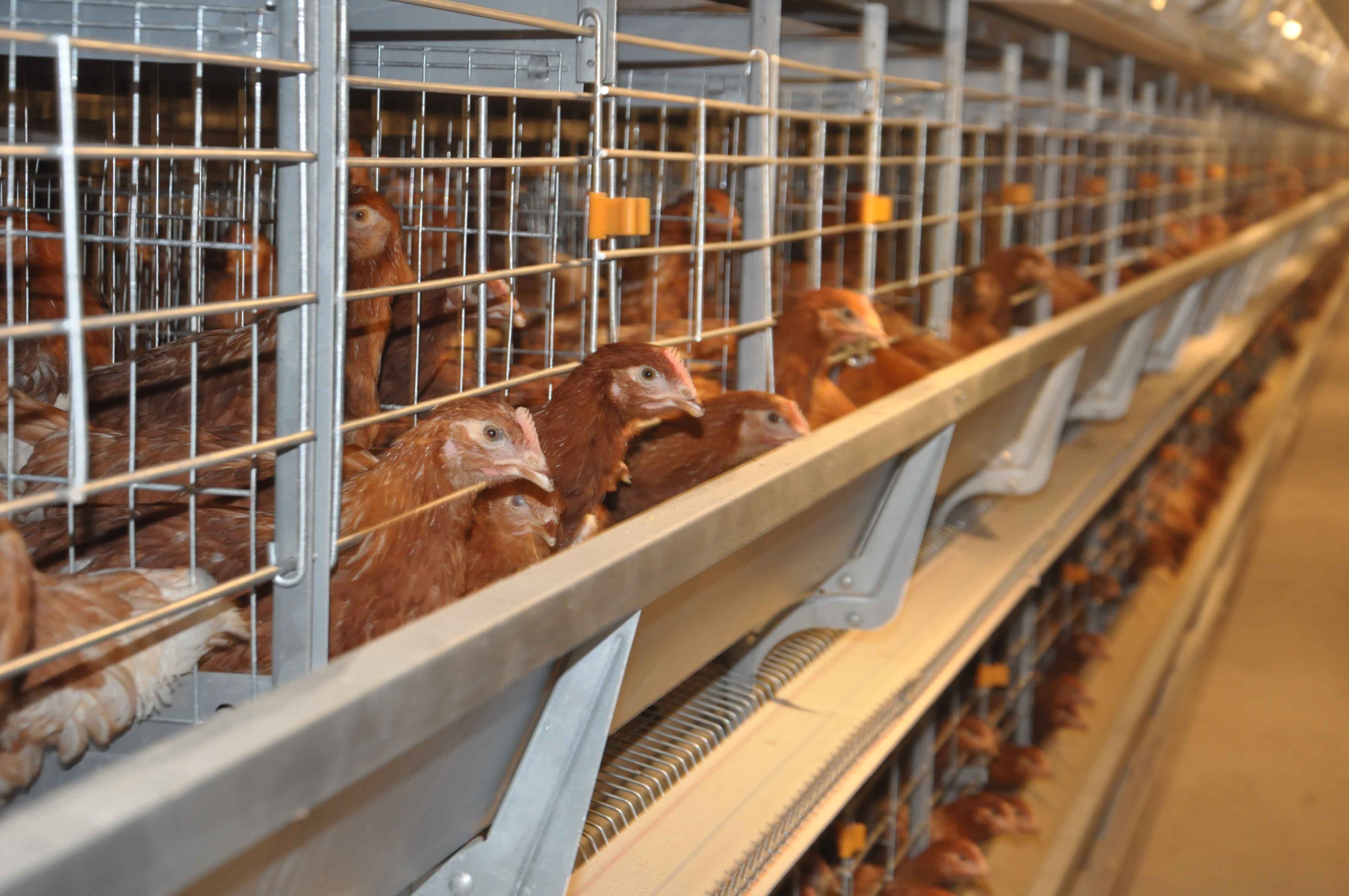 Hot dipped galvanized H type layer cage system ensures a longer lifetime. Zinc-aluminum coating of all wire parts(cage front, bottom wires and lateral partitions), so it's three to four times better protection against corrosion compared to galvanized wire. The cage system is equipped with feeding, drinking ,manure cleaning, heating and cooling ,monitoring, alarming and lighting system, which can be controlled by electronic panel fully automatically.
Advantage:
Material use Q235 steel and surface treatment is hot-dip galvanization or cold galvanization, so it has better elasticity and higher intensity.
Hot-dipped galvanization and 330~380 micrometers zinc coating thickness make the cage more anti-corrosion and durable that can be used more than 20 years.
Cages surface is smooth, no zinc stab and zinc dust, so won't hurt chicken' feet, avoiding infections.
Saving land resources and suitable for large-scale farming.
Low energy consumption, construction costs and administrative costs.
Design solutions enable assembly of cages at cage at up to 12 tiers.
Easy maintenance and operation.
DRINKING SYSTEM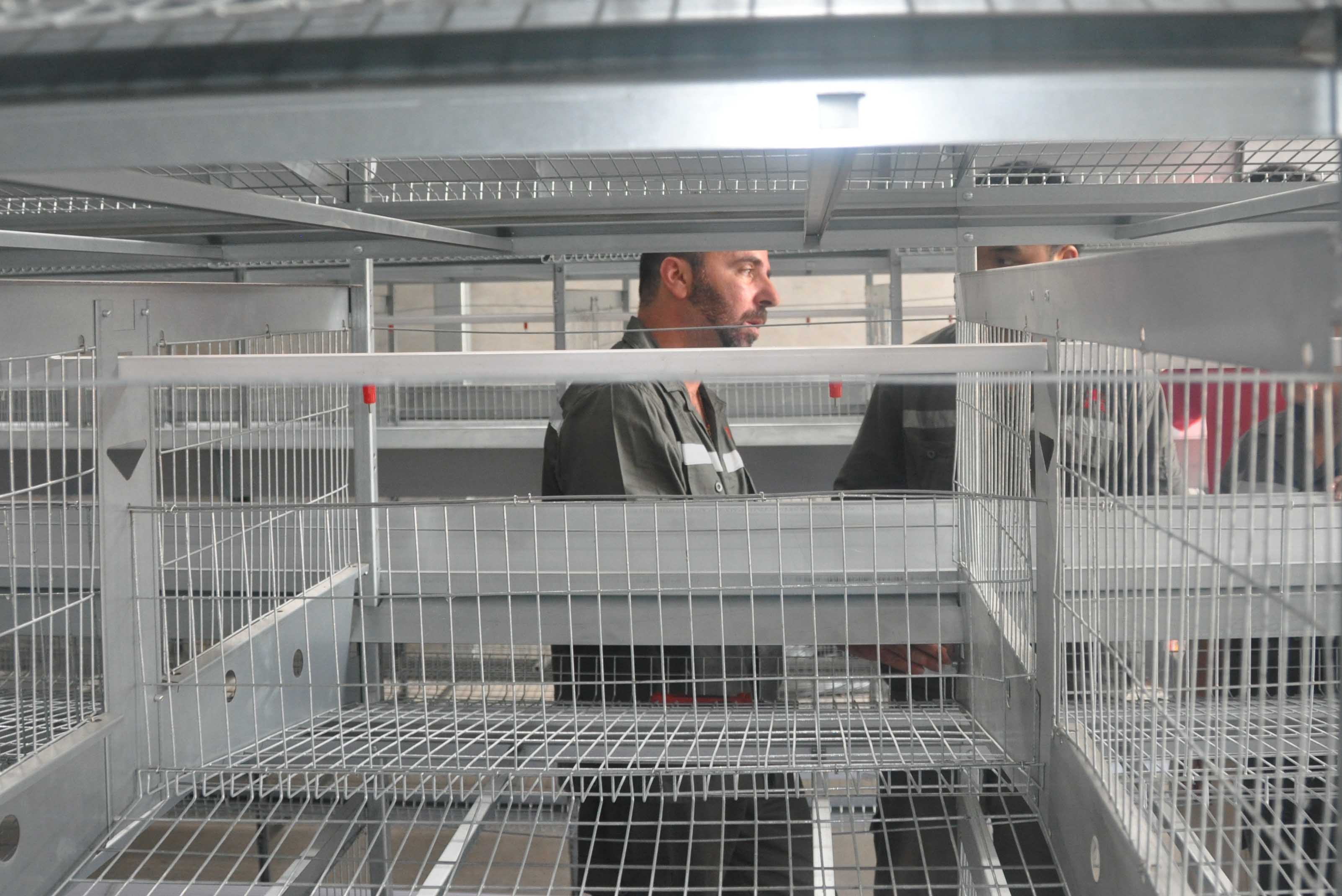 Drinking system consists of filter, medicine machine (Dosatron France), water pressure regulator, water pipe and nipple drinker, V-shaped drop-catching trough, etc. the redundant water drops to the V-shaped drip holder, so the spilling drips do not reach and wet the manure belt. Depending on customer's request, water pressure in the drinking lines can be adjusted by means of pressure regulators.
Advantage:
Sufficient and hygienic drinking water.
Strict sealed test guarantee nipple drinker no leaking.
Two nipple drinkers in each cage, easy for drinking and pressure regulator can adjust the pressure on each nipple drinker.
Easy installation, operation and maintenance.
FEEDING SYSTEM
Two modes feeding system available: trolley feeding and chain feeding.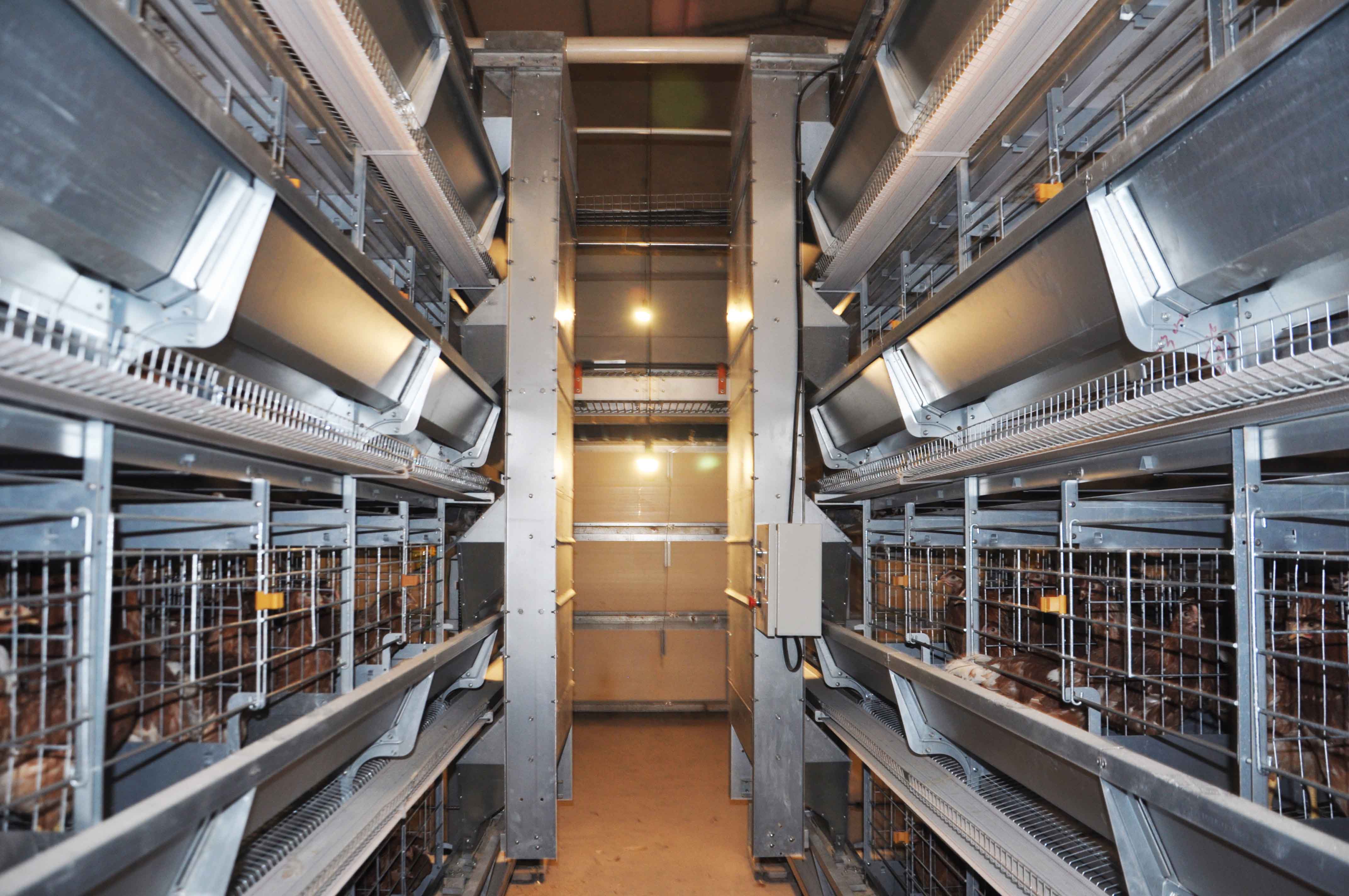 Trolley feeding system: Feeds is delivered from silo to the hopper via auger, then motor on the hopper drives the feeding trolley directly. Feeding system ensure feeds pass from silo into hopper safely without any loss, no mater it's powder, granule or crumbles. Feed trough is hot dipped galvanization, solid and durable. Deep feed trough with inner rim to minimized feed losses. Maximized the FCR(Feed Conversion Rate).

Chain feeding system: the chain feeder transports the feed to the birds smoothly and without separation. The feed chain is moved by one drive per feed circuit. It only needs very little space in the end set area and is easy to maintain. The chain is robust and simple design, so it has a long time.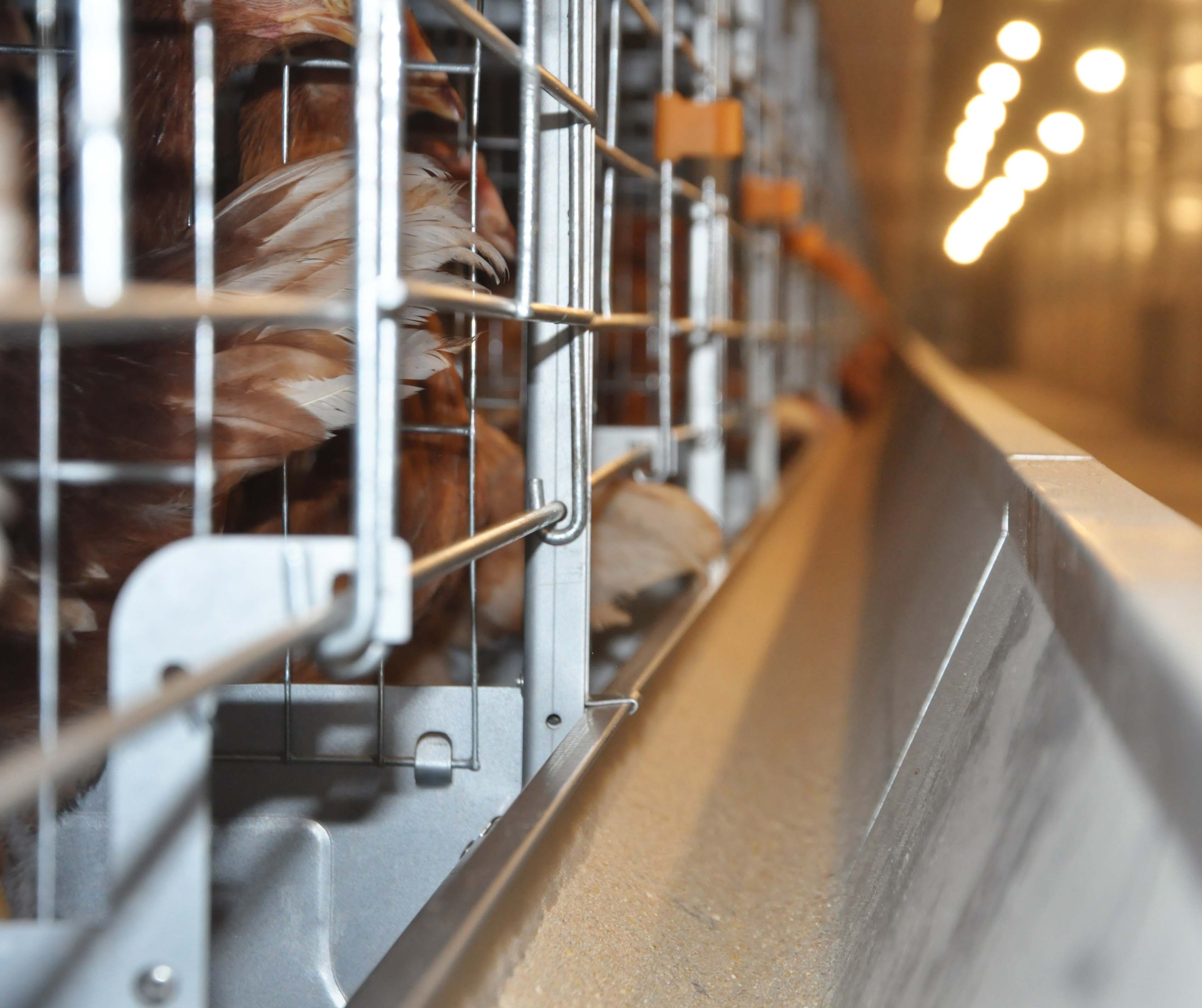 Advantage:
Trolley feeding, so the feeds is distributed hygienically, homogeneously and equally with less electricity consumption and
energy saving.
The system is characterized by innovative technology, thus achieving high accuracy and efficiency of feed distribution.
With a regulator, the hopper can deliver feeds accordingly, prevent the waste of feed.
Easy installation and operation by control panel.
Saving labors, time and energy.
Feed trough are mounted on supports for increasing stability and with inward rim minimized feed wastage.
EGG COLLECTION SYSTEM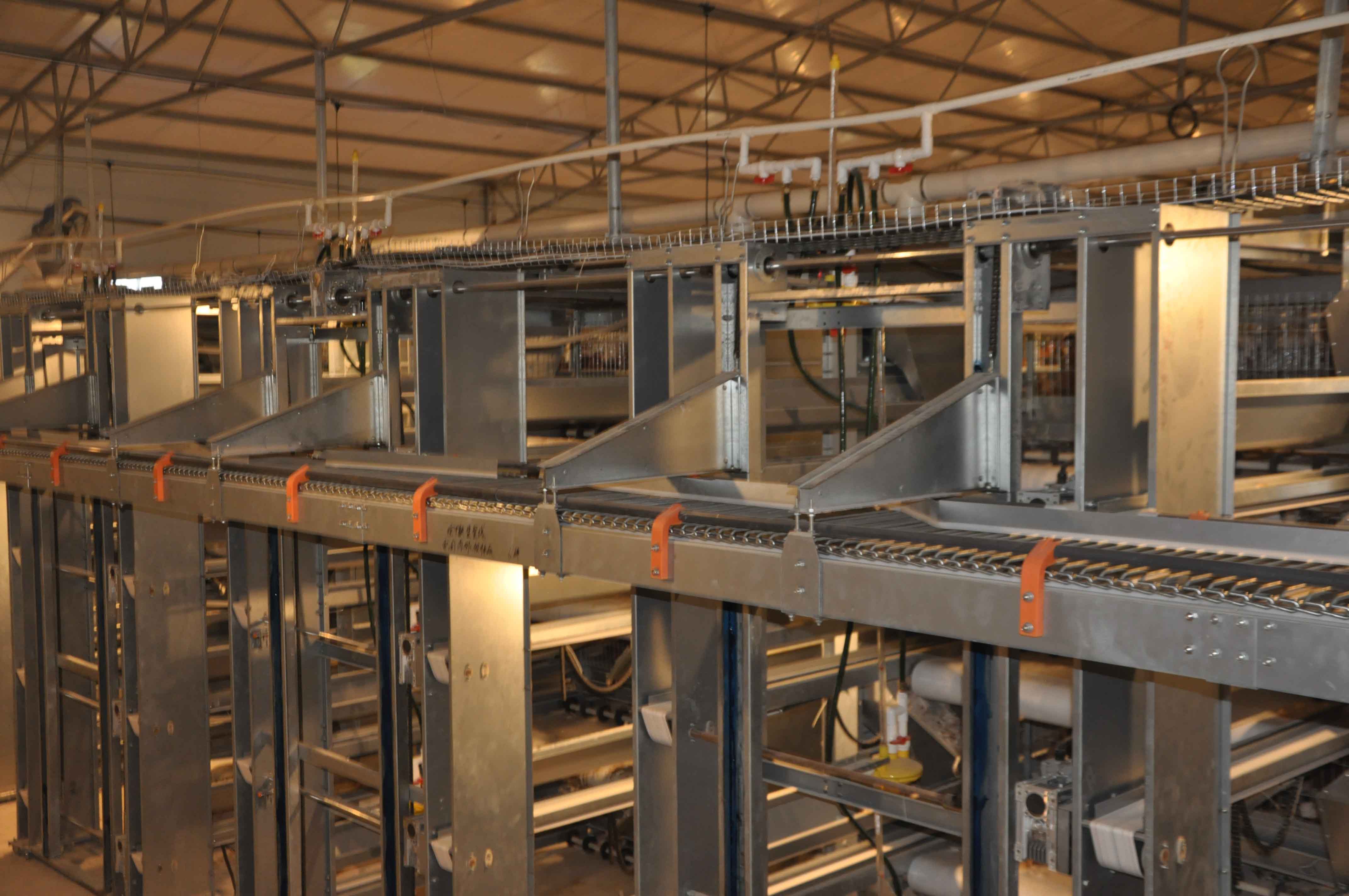 Egg collection system plays an important role in layer management, it consists of egg collection belt, egg collection machine. The slope of the bottom mesh is 7 degree, allowing eggs sliding freely onto the collection belt, then the belt runs smoothly and deliver the eggs to the collection machine for packing. In addition, according to the customer's requirement, a lift system can be installed.

Lifting system: The lift system collects the eggs per tier and simultaneously from all rows. The main feature of the lift system is that the cross conveyor moves to the individual tiers to collect the eggs. Once it has collected the eggs from all tiers, the lift moves into its parking position. The lift system is economical especially for small units or individual houses. And little space required in the end area. Due to specially designed control system, the egg belt can be
retroflex
just before the cross conveyor moves to the next tier. The lift system can be connected to rod or curve conveyor with a width of 500 or 700 mm.

Curve conveyor: Different farm layouts as well as different height often require individual solutions for egg transport. Curve conveyors are commonly used as cross collection because, thanks to their flexibility, they can be adapted to any type of layout.
Egg collection system also can be connected to egg cleaning, grading, printing, packing machine.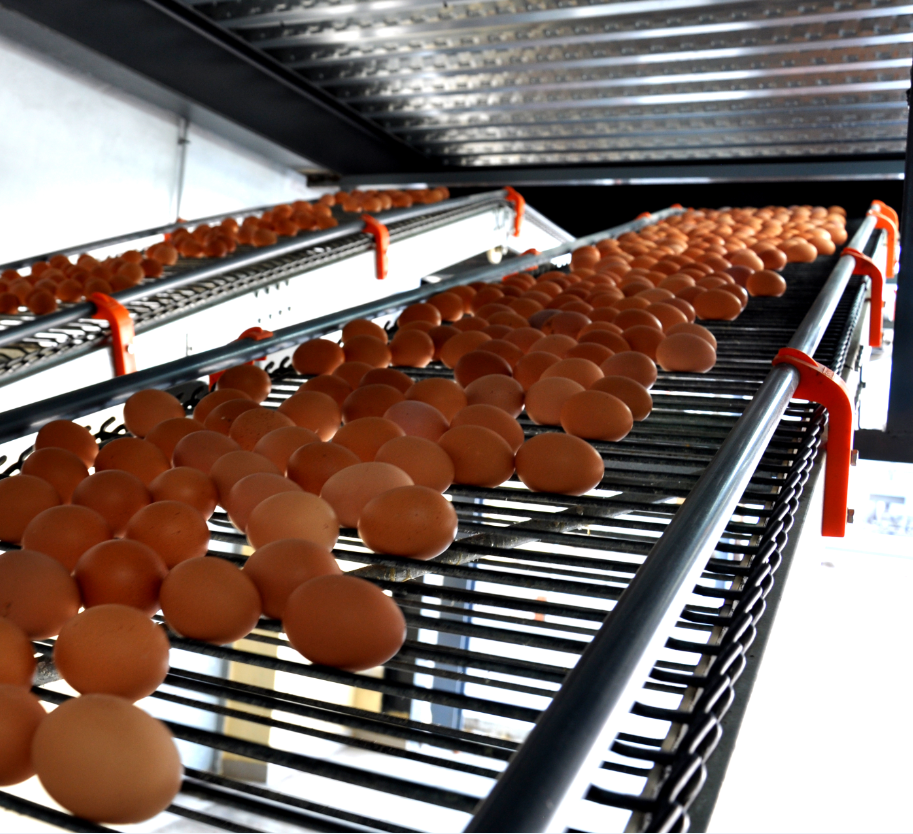 Advantages:
Saving energy ,time and labor cost.
Easy installation, operation and management because of advanced technology design.
Egg collection belt is imported from Italy , long life-time.
The belt is made by Polypropylene yarn that is anti-corrosion and antibacterial, and it don't absorb water so it can be cleaned up by water directly.
Optimum egg quality, greatly reduce the egg breaking even egg cracking rate.
Egg collection time can be adjusted as per customer requirements.
The lift system can be combined with any cross collection of any width.
Smooth egg transport as there is only one transfer from the longitudinal belt to the cross belt by lift system.
The length of curve conveyor can reach 1km no matter what condition.
MANURE REMOVAL SYSTEM
Polypropylene manure belts collect the manure under the cages. When manure removal starts, the manure drops down onto the cross belt from all tiers. From there, it can be either to a manure store or via another conveying belt onto a truck. The end set is galvanized to ensure protection against corrosion. Manure scrapers efficiently clean the belt on each tier.
An important advantage: ventilated manure belt battery is available, it's equipped with air ducts (optional)above the manure belts. The air from these ducts dries the manure, which significantly reduces ammonia emissions from the house.
Advantages: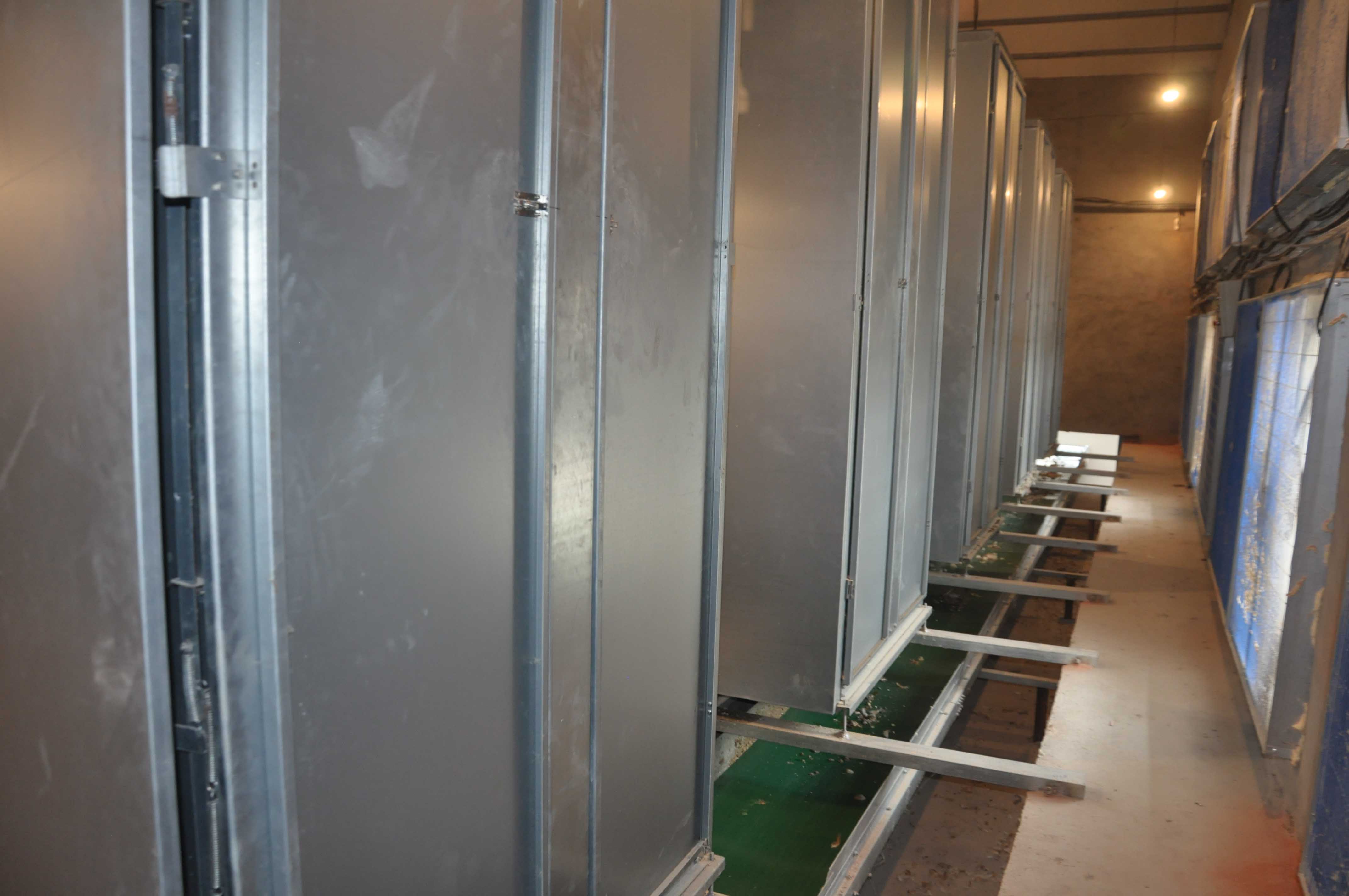 The manure belt is imported from Italy and has international standard quality.
It can clean the manure with highest speed and effect.
Manure can be cleaned up immediately, greatly reduce the environment pollution, provide a healthy growth environment for chicken.
The manure belt always stay slack thus ensures extremely low deviation rate after longtime use.
The air duct dries the manure quickly and effectively with low energy costs, no fly problems.
All support frames are hot dipped galvanized, solid and durable.
Easy installation, maintenance, operation and no deviation of manure belt because of advanced technology design.
Modular design allows remarkable low mortality during rearing.