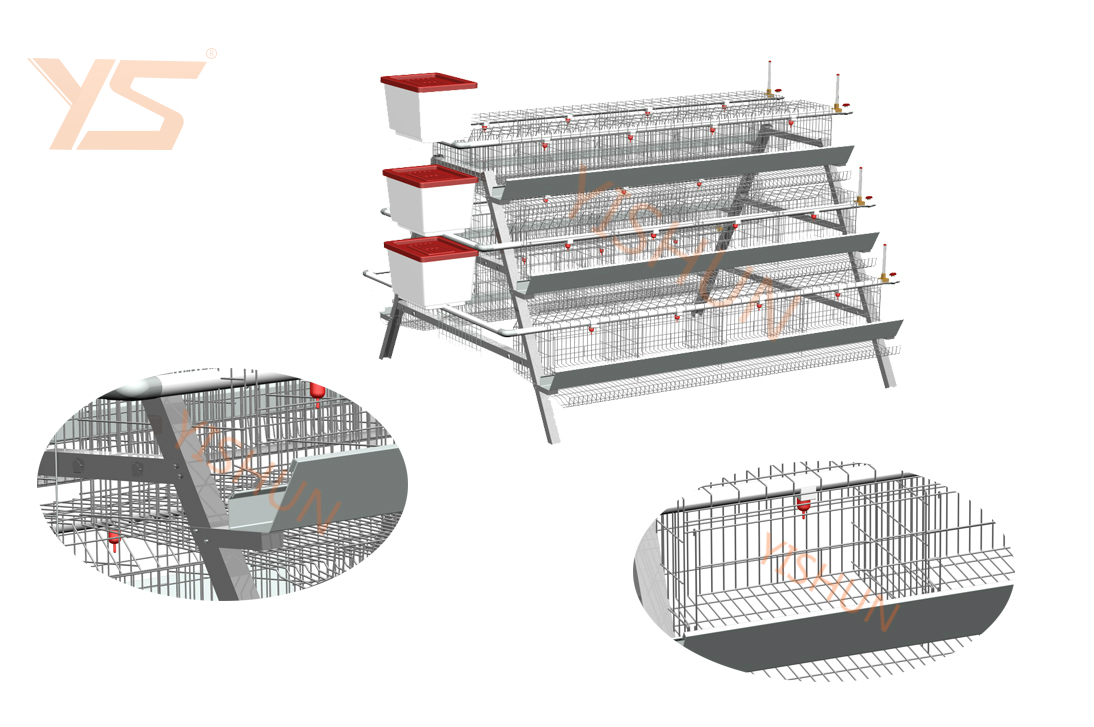 Basic Version:
The basic version doesn't require an electrical connection.Feeding,egg collection and manure remval are carried out manually.

The system height of adults is optimally adapted to this version. Daily egg collection and feeding as well as inspection of the hens are easily completed tasks.

Nippler drinker supply the birds with water.





Advantage:
1. High quality thanks to special corrosion protection.
2. Low number of cracked eggs thanks to flexible bottom wire elasticity and angle.
3. No feed losses thanks to specially designed feed through.
4. Simple to move birds in and out thanks to the completely opening sliding front.
5.
Nipple drinker has strict leakage test to make sure every nipple drinker isn't leakage and highly sensitive.


You may be concerned about these issues:


Q: How to make my farm high efficiency and low investment?
A: We can supply automatic feeding, drinking, manure cleaning and egg collecting system, all works can be controlled by panel automatically, which will increase your farm efficiency. What's more, automatic system has Low energy consumption, construction costs and administrative costs, greatly reduce costs.

Q: How long does the warranty run?
A: For the cages wire mesh part, cold galvanization, at least 15 years. Hot-dip galvanzation, at least 20 years. Within 5 years, if the cages and equipment had any quality issues, please feel free to contact us, we guarantee to replace the broken equipment free of charge.

Q: What is the service life of YISHUN equipment?
A: The service life is more than 15 years due to special way in which YISHUN equipment is manufactured. Because hot-dipped galvanization and 330~380 micrometers zinc coating thickness make the cage more anti-corrosion and durable, guarantee a long lifetime.

Q: Will you supply technical assistance if I want to start a chicken farm?
A: Of course we can. We have more than 28 years experience in this field, our engineer can give you professional design advice and technical data to make your chicken farm reasonable. And we can also offer professional advice in raising chickens.

Q: Can I get a sample before placing order?
A: Yes. We can send you samples for your reference. And we promise if you place order, the quality will same with samples.

Q: What is the delivery time if I make an order.
A: If we have enough stock cages, the delivery time is within 7 days. For container quantity order the delivery time is 20-30 days.