THE CAGES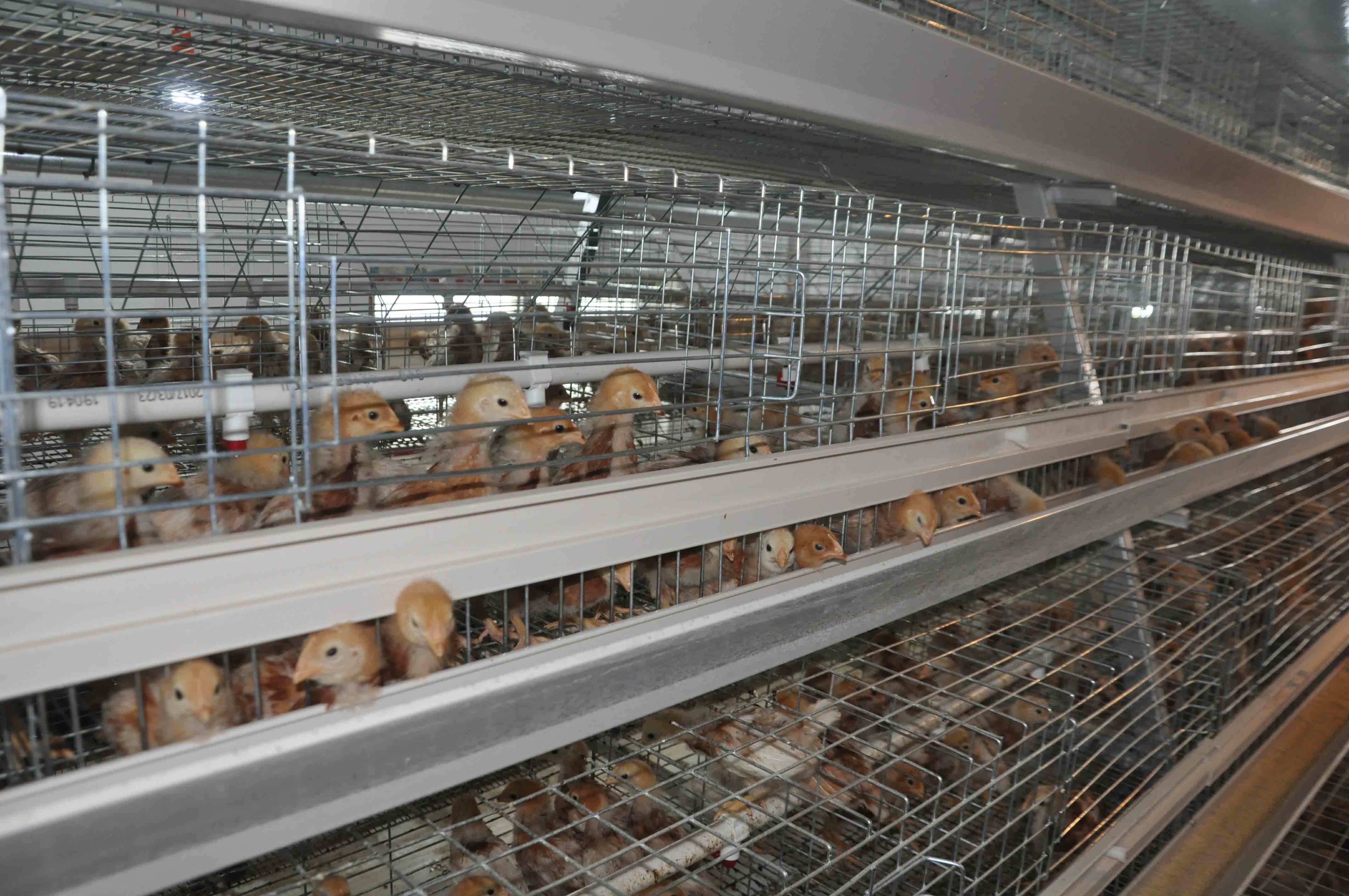 This system is specially designed for pullets that rearing period from 1~12 weeks. Cage materials is Q235 Steel and surface treatment is hot dipped or cold galvanized based on clients' requirement. Because of unique design, feeding line and water line can be adjusted according to different chicken age. An insert mat ensures a secure foothold for the chicks, especially during their first days.
Advantage:
Convenient for observing the growth condition of chicken.
Raising density can increase 50%~100% compared with flooring system.
Designed for rearing and growing, reducing the turnover and stress mortality rate of chickens.
Greatly reduces chicken disease and provides a healthy growth environment.
Galvanized steel wire is elastic, anti-corrosive and guarantee long lifetime.
Easy maintenance and operation.
DRINKING SYSTEM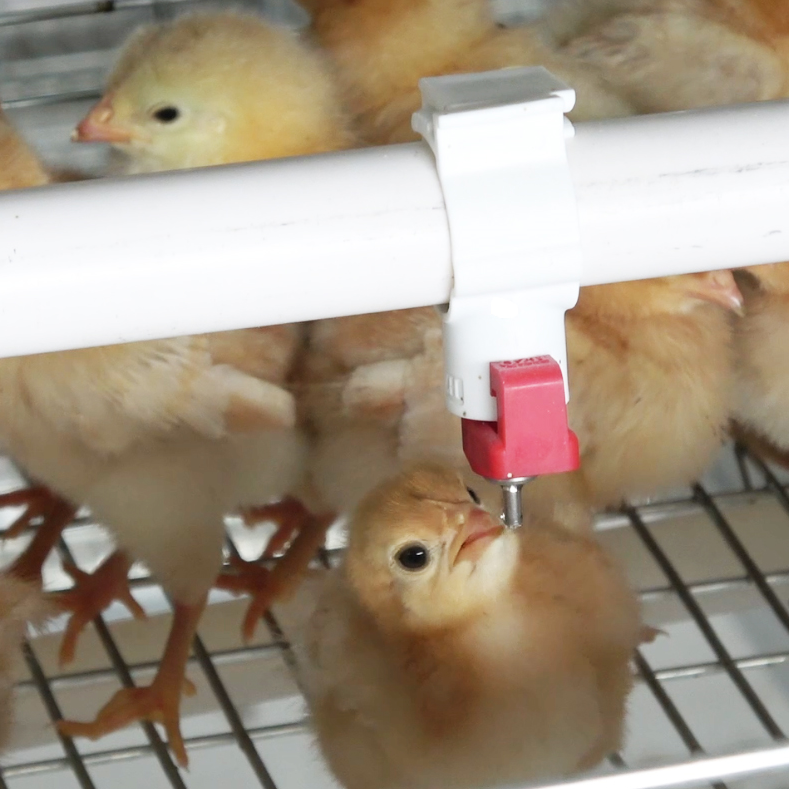 Every tier is equipped two water line with 360°nipple drinker, and it can be fitted with water cups under the nipple, which ensures chicken have easy access to water. Vacuum drinkers are also available, especially for first two weeks while pullets are too small to get the nipple drinker. The water line can be adjusted higher with chicken growing up, ensuring that each chicken gets sufficient water.
Advantage:
Nipple drinker is stainless, sealed and highly sensitive, no water leakage.
According to chicken age, nipple drinker water volume can be adjust accurately by the pressure regulator.
Equipped with a filter and a medicine machine (Dosatron France) for cleaning water.
No water leaking ensures very dry manure, so greatly reduce the ammonia emission, which is good for chicken health.
FEEDING SYSTEM
Pullet cage also can be equipped with automatic feeding machine. Motor drives the feeding hopper via steel wire rope. The feeding trough has height-adjustable plate for different rearing period, therefore, pullets can eat freely and avoid running away.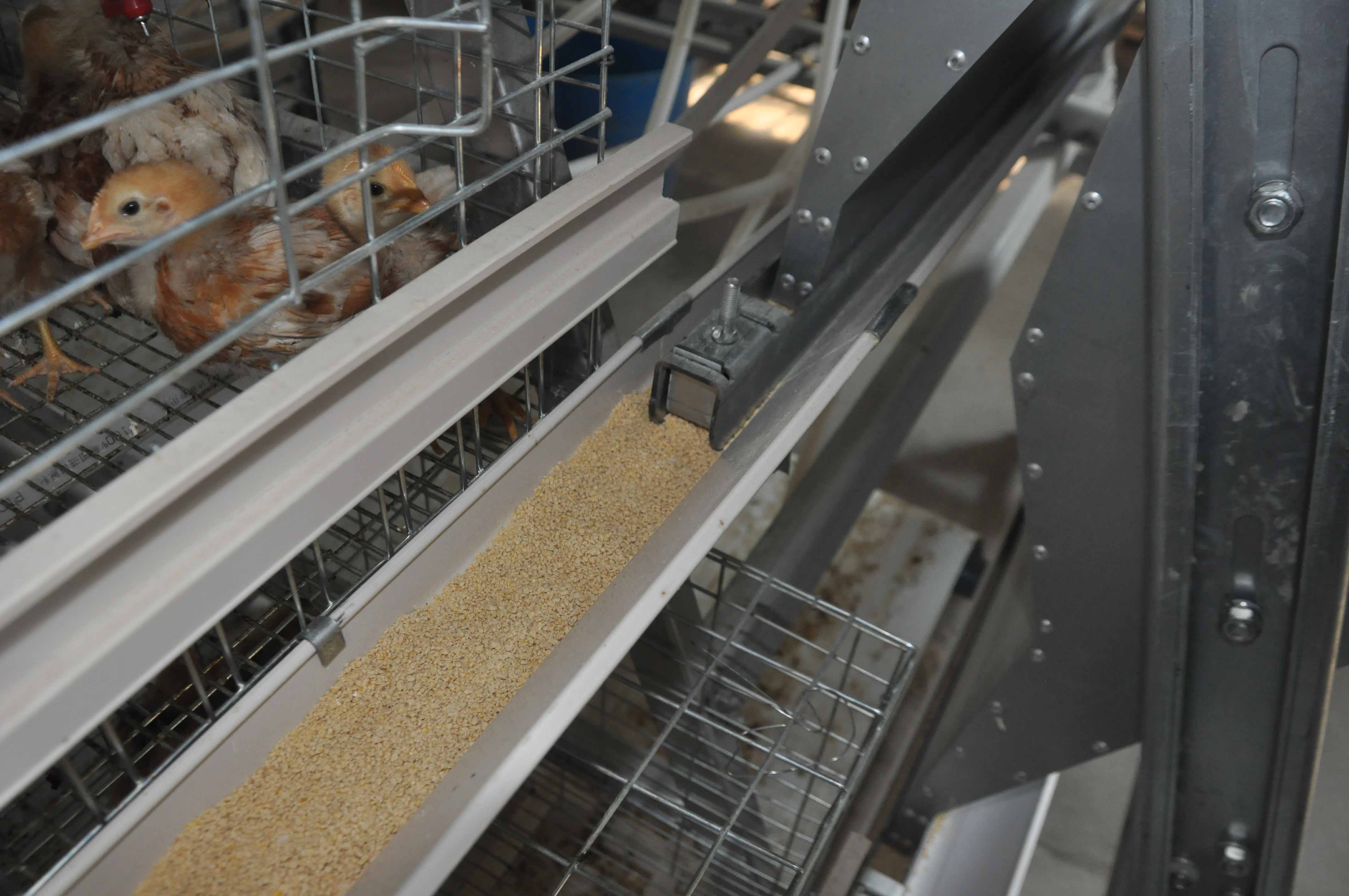 Advantage:
Feeding machine is fully automatic and made of galvanized steel sheet, anti-corrosion and has long service time.
The hopper with a special regulator can adjust feeds volume according to the chicken age, feeds are distributed uniformly by hopper feeding system, feed losses is minimized.
Saving more labors because works can be controlled by panel automatically.
Feeding trough with lower edge is easy for chicken eating feeds.
It's easy to install, operate and maintain.
MANURE REMOVAL SYSTEM

Pullet system also has two type manure removal system: scraper type and belt manure removal system.

The scraper type is designed for A frame pullet cage system which has manure pits under the cages. This system consists of frame, motor, drive mechanism, traction rope, scraper, anchor blot and electrical system. The manure drop from the cages in the manure pit, and the scraper can collect the manure outside of the chicken house.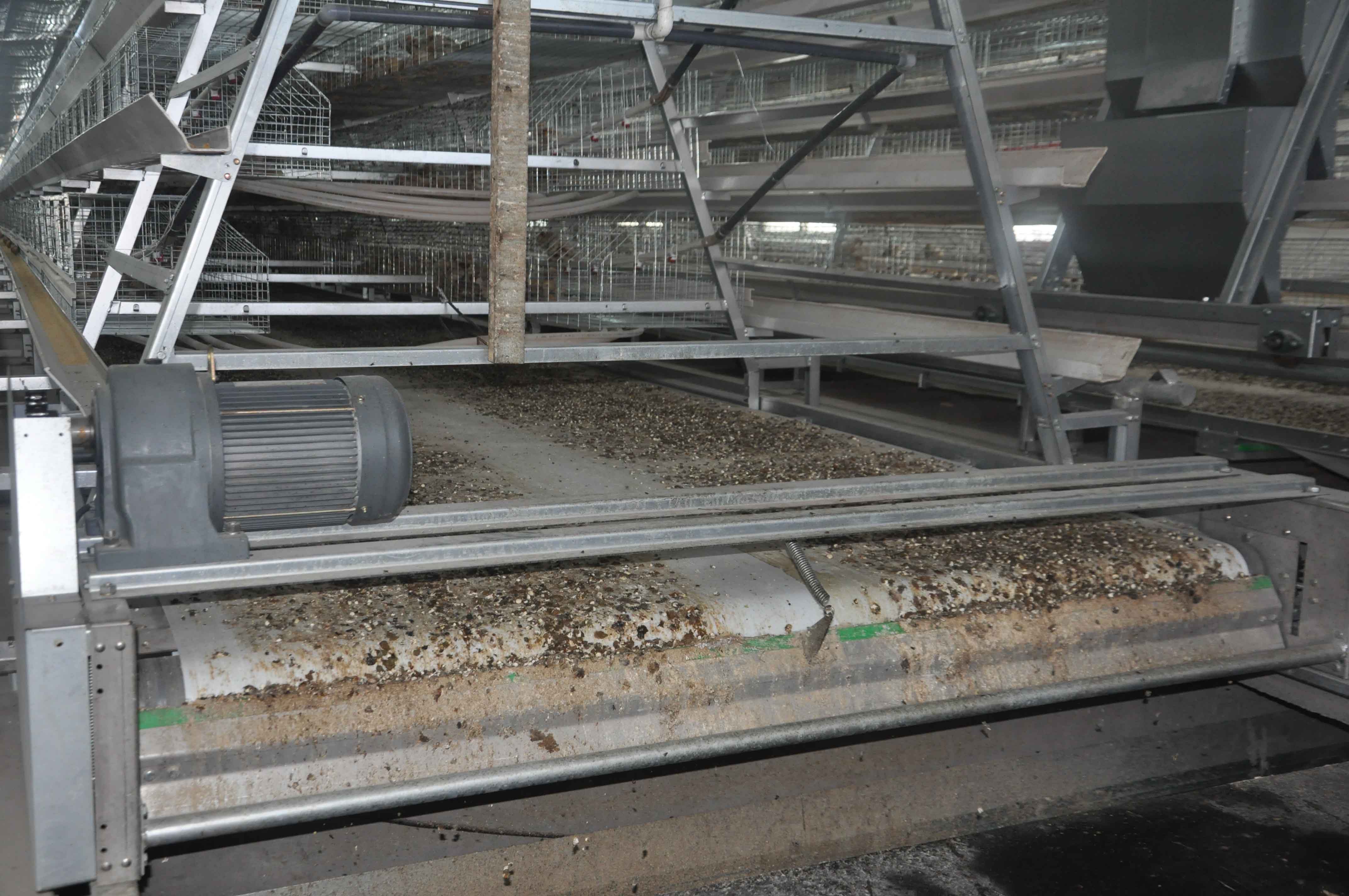 Feature:
Lower costs and easily to operate by control panels.
Easy to install and make maintenance during use.
Solid and durable structure because of hot dip galvanized manure scraper and imported Nylon hemp ropes.
This system can be used in both close and open house.
Saving more labors and cleaning the pits immediately to control the ammonia emission and ensure the chickens' health.
The belt manure removal system is suitable for both A and H type pullet cage system. PP longitudinal belts collect the manure under the cages to the end, then manure fall down onto the transverse belt. And it can be transported onto a truck via synclinal conveyor belt.


Advantages:
The PP longitudinal belt imported from Italy has high tensile strength to ensure a long service time.
High efficiency motor, make sure the belt running stable and low failure rate.
Entirely hot dip galvanized longitudinal and transverse belt frame, natural rubber transverse and synclinal manure belt , fast manure delivery speed.
Remove manure timely so it doesn't accumulate harmful substances, and it contributes to a favorable microclimate in the poultry house.
Easy installation, maintenance, operation and no deviation of manure belt because of advanced technology design.