THE CAGES

Cage materials is Q235 Steel with cold/hot dipped galvanization surface treatment, anti-corrosion, solid and long service time. The cage system is equipped with feeding, drinking ,manure cleaning, heating and cooling ,monitoring, alarming and lighting system, which can be controlled by electronic panel fully automatically. Our cage system was certified by ISO9001:2008.
We have professional R&D team, cages equipment designed and produced by us have been inspected by Countless farms over 20 years. Our products have already established a good reputation all over the world.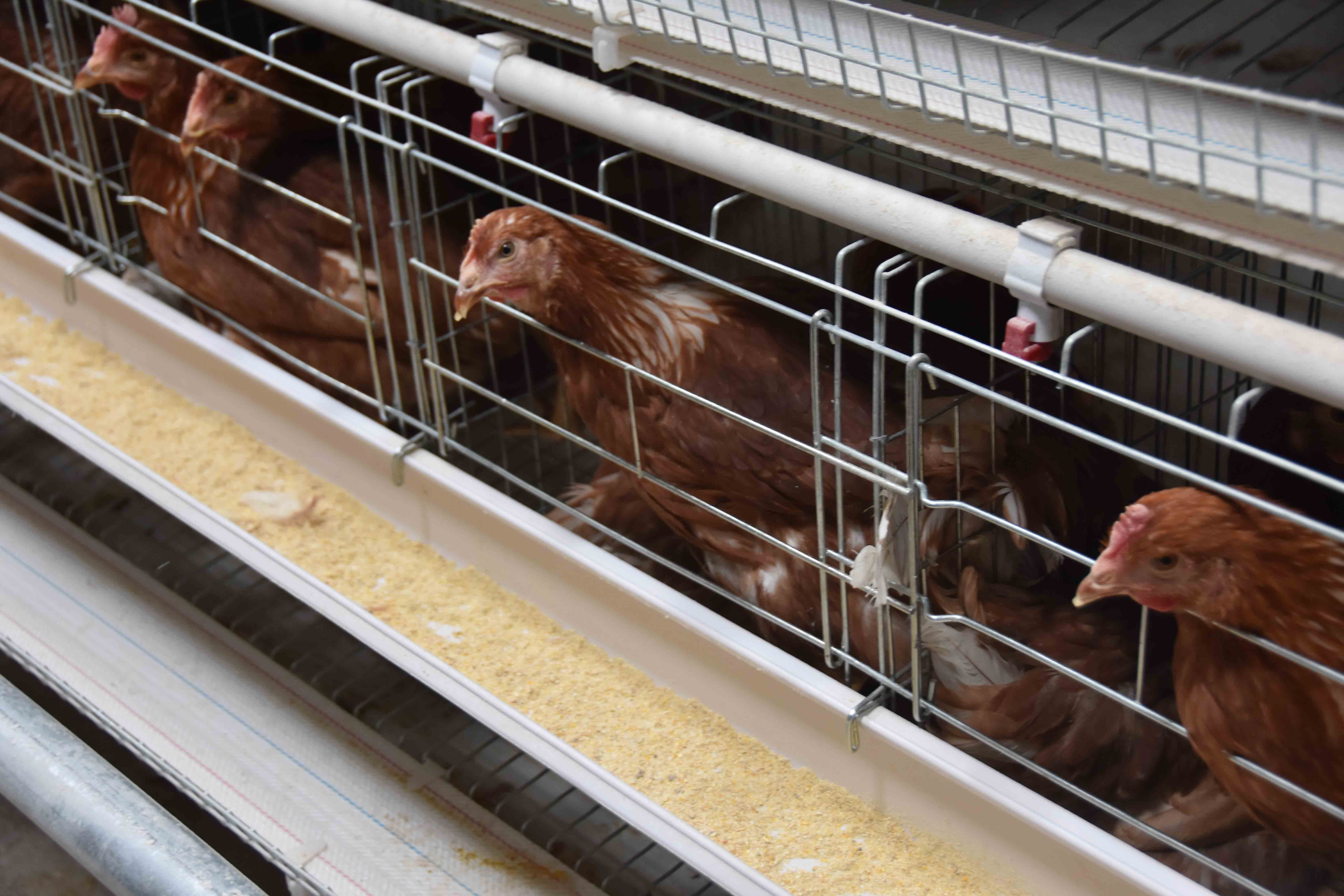 Advantages:
Saving more cost for farmers because of lower investment.
More suitable for tropical such as Africa, Southeast Asia, South Asia, South America and Middle East countries.
Automatic welding and bending system, all processes are according to technical parameter exactly, so that no installation problems.
Use transverse sliding door and deep feed trough edge to control the feeds losses effectively.
Easy to control parasitic disease like coccidiosis and worm infestation.
Compare with floor system, it has higher feed efficiency, easier operation and maintenance.
High egg laying rate and low mortality rate.
DRINKING SYSTEM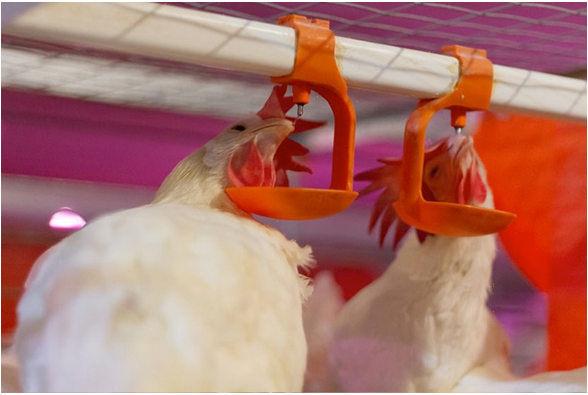 Automatic drinking system consists of a water treatment unit, water distribution piping and water lines per each tier.
Water line has square or round pipe(thickness 2.5mm) with stainless nipple drinker. Drinking line is in the front of
each line, and the nipple drinker can turn 360 degree around so it's easy for drinking, no leakage and less maintenance.
Advantages:
Nipple drinker has strict leakage test to make sure every nipple drinker isn't leakage and highly sensitive.
Equipped with a filter and a medicine machine (Dosatron France)
Regulator has flushing function, so that the water pipe can be cleaned up thoroughly by big water flow.
No water leaking ensures very dry manure, so it's easier to clean and transport and greatly reduces the environment pollution.
FEEDING SYSTEM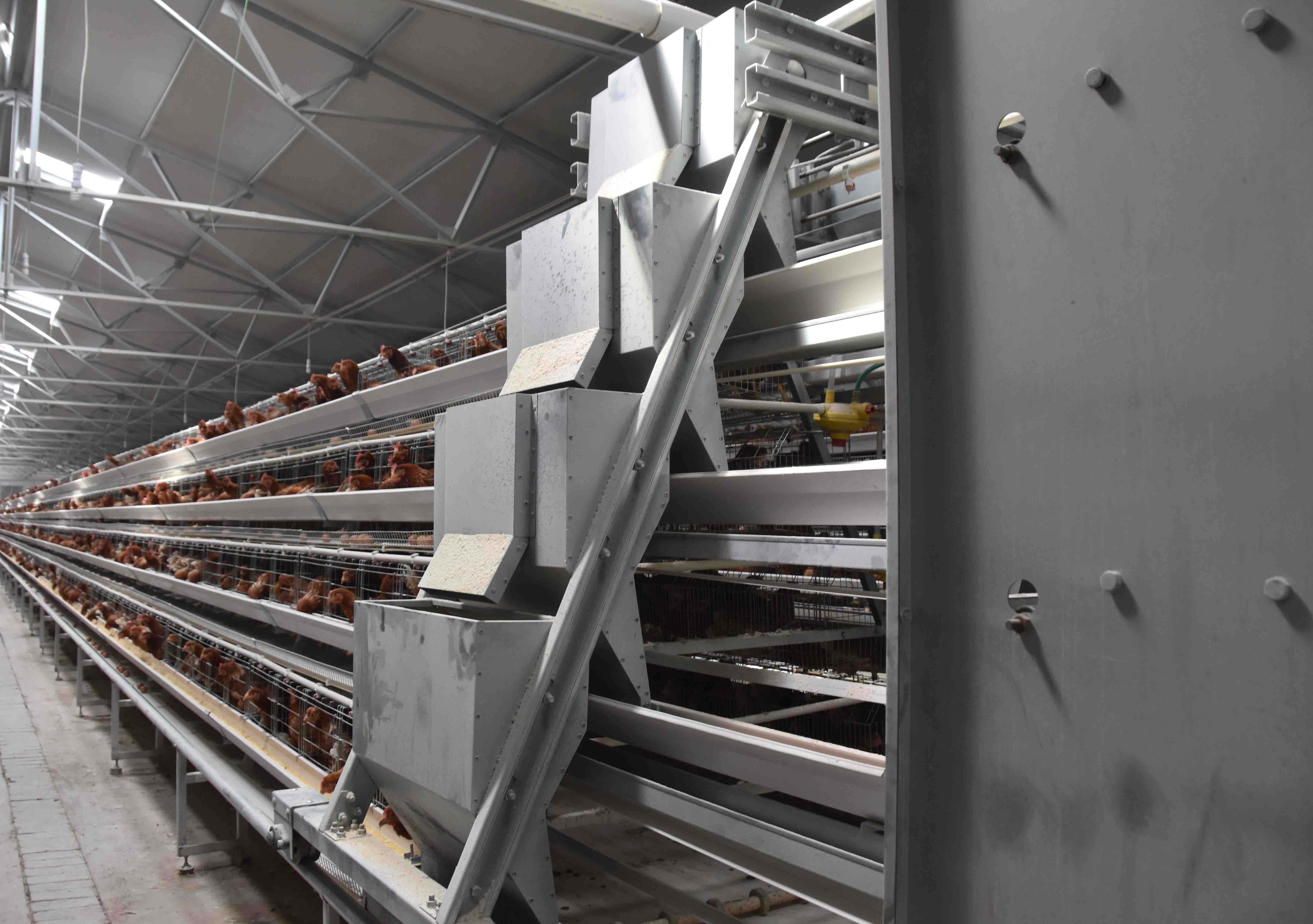 Automatic feeding system consists of silo, driving system, hot galvanized tube, quality auger, feed hopper, etc. Feeding trough is made of PVC or hot galvanized steel sheet with solid and durable quality. The deep feeding troughs reduce the feeds losses. Hopper thickness is 2.2mm and the volume is based on the chicken quantity. By using this system, waste of feeds is minimized and it is impossible for bird to pick out the feeds, provide a maximum level of FCR(Feed Conversion Rate) that is the most important factor for the cage.
Advantages:
Trolley feeding, so the feeds is distributed hygienically, homogeneously and equally with less electricity consumption and energy saving.
Saving more labors because the automatic control panels.
It makes the cage frame being higher as 3-5 tiers.
It's easy to install and connect with the silo via augur, automatic feeds delivery.
The feeds level in the feed trough is equal and adjustable.
Feeding trough produced by imported new material, it is white and glossy and won't deform or discolor after long time using.
EGG COLLECTION SYSTEM
Egg collection system consists of egg collection belt, egg collection machine and cross conveyor system. The slope of the bottom mesh is 7 degree, allowing eggs sliding freely onto the collection belt, then the belt runs smoothly and deliver the eggs to the collection machine for packing. In addition, according to the customer's requirement, egg conveyor can be installed for delivering eggs to storage house from different pen house, especially for the large-scale farm. Egg collection system also can be connected to egg cleaning, grading, printing, packing machine.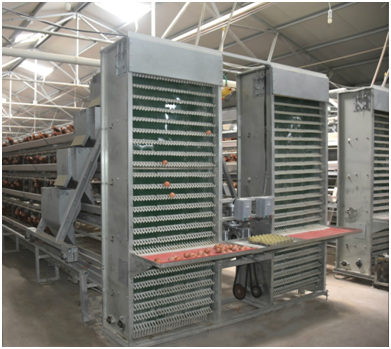 Advantages:
Saving energy ,time and labor cost.
Easy installation, operation and management because of advanced technology design.
Egg collection belt is imported from Italy , long life-time.
The belt is made by Polypropylene yarn that is anti-corrosion and antibacterial, and it don't absorb water so it can be cleaned up by water directly.
Optimum egg quality, greatly reduce the egg breaking even egg cracking rate.
Egg collection time can be adjusted as per customer requirements.
MANURE REMOVAL SYSTEM
We have two type manure removal system: scraper type and belt manure removal system.
The scraper type is designed for A frame cage system which has manure pits under the cages. This system consists of frame, motor, drive mechanism, traction rope, scraper, anchor blot and electrical system. The manure drop from the cages in the manure pit, and the scraper can collect the manure outside of the chicken house.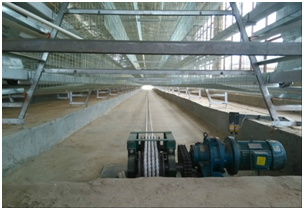 Feature:
Lower costs and easily to operate by control panels.
Easy to install and make maintenance during use.
Solid and durable structure because of hot dip galvanized manure scraper and imported Nylon hemp ropes.
This system can be used in both close and open house.
Saving more labors and cleaning the pits immediately to control the ammonia emission and ensure the chickens' health.
The belt manure removal system is suitable for both A and H type cage system. PP longitudinal belts collect the manure under the cages to the end, then manure fall down onto the transverse belt. And it can be transported onto a truck via synclinal conveyor belt.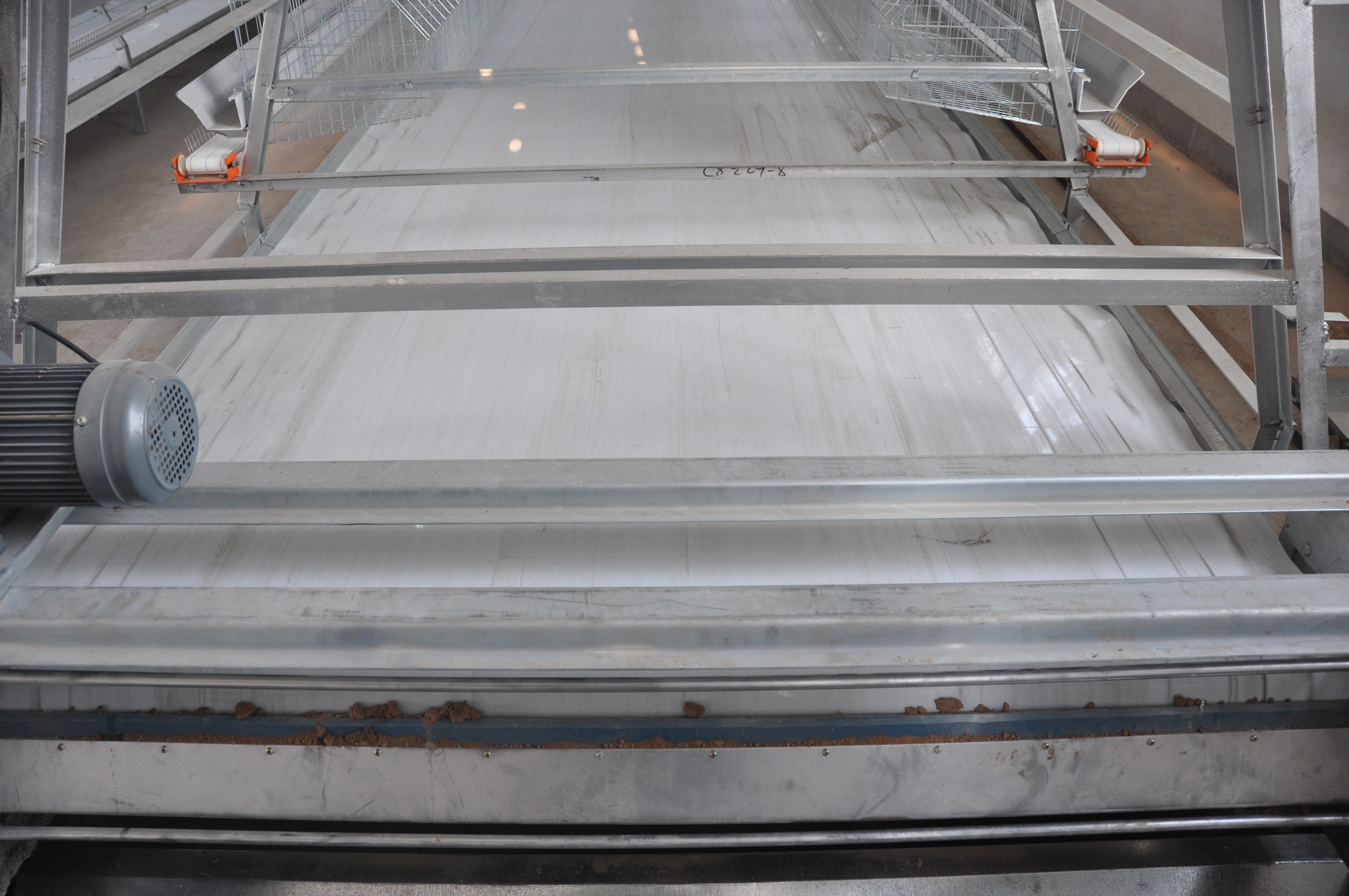 Advantages:
The PP longitudinal belt imported from Italy has high tensile strength to ensure a long service time.
High efficiency motor, make sure the belt running stable and low failure rate.
Entirely hot dip galvanized longitudinal and transverse belt frame, natural rubber transverse and synclinal manure belt , fast manure delivery speed.
Remove manure timely so it doesn't accumulate harmful substances, and it contributes to a favorable microclimate in the poultry house.
Easy installation, maintenance, operation and no deviation of manure belt because of advanced technology design.